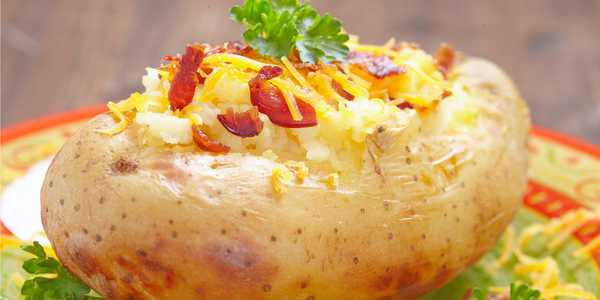 HEART-HEALTHY WONDERFUL BAKED POTATOES
Baked potatoes stuffed with seasoned, low-fat cottage cheese are a lavish low-fat, low-cholesterol, low-sodium treat.
Ingredients
4 medium  baking potatoes
¾ cup  low-fat (1%) cottage cheese
¼ cup  low-fat (1%) milk
2 Tbsp  soft margarine
1 tsp  dill weed
¾ tsp  herb seasoning
4-6 drops  hot pepper sauce
2 tsp  grated parmesan cheese
Directions
1. Prick potatoes with fork. Bake at 425 oF for 60 minutes or until fork is easily    inserted.
2. Cut potatoes in half lengthwise. Carefully scoop out potato leaving about ½ inch of pulp inside shell. Mash pulp in large bowl.
3. Mix in by hand the remaining ingredients except parmesan cheese. Spoon mixture into potato shells.
4. Sprinkle top with ¼ tsp parmesan cheese.
5. Place on baking sheet and return to oven.
6. Bake for 15-20 minutes or until tops are golden brown.
Yield: Makes 8 servings  Serving size: ½ potato each
Nutrition Facts
Each serving provides:
Calories 113
Fat 3 g
Saturated fat less than 1g 
Cholesterol 1 mg
Sodium 136 mg
Article Source
1. National Heart, Lung and Blood Institute, USA.